How To Sell A House During Divorce In Houston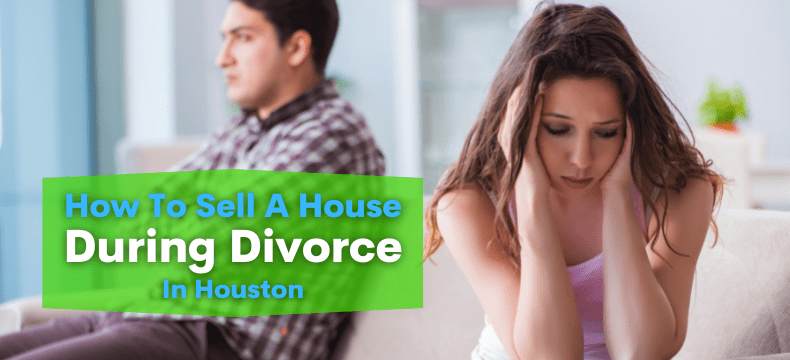 For most married couples, their home is their most valuable possession. They will need to divide this after they are divorced, and to sell a house during divorce in Houston is mostly an emotional period for both sides to make a decision.
When selling a home after a divorce, there are a variety of financial decisions to be made, including whether to sell the house during divorce in Houston jointly, buy out your spouse, retain the house long enough for your youngest child to graduate school, or hold on to the house for other reasons, such as waiting for a more desired time of year to sell. 
This is a personal decision that differs from person to person depending on the circumstances. But don't worry; we are Houston home buyers and will walk you through your options for distributing home ownership in a divorce and how to secure a new mortgage once your marriage is over in this blog.
But how can the house be divided during a divorce?
When a relationship ends, it may be a difficult process, especially when a home is involved and you have to decide on selling house during divorce in Houston. This can be addressed between the two parties until they reach an agreement, but if this does not come easy, you should seek expert guidance instead.
Whatever course you choose, your home will need to be appraised in order to determine a settlement price. If you still can't come to an agreement, the court will seek a joint report from a local estate agent and surveyor.
Three of the most prevalent methods for separating or transferring property ownership are:
1. Both selling and relocating
This can be aggravating, but it is frequently the best option for all parties, especially when neither husband nor wife can make up their minds.
2. Buying out your partner
Depending on your financial situation, you may choose to purchase the other person's part of the property so that ownership is transferred to just one person.
3. Selling Afterwards
Some couples may decide that selling their home after their divorce is a smart option. Typically, couples wait until a certain event occurs, such as their youngest child turning 18, before selling their property. When this happens, one individual usually stays in the house while the other leaves.
Home Buyers In Houston Can Buy Your House For Cash
When you divorce, what happens to a shared mortgage?
If you and your partner have any shared money, such as a mortgage, you will remain financially bound once you have divorced. As a result, whether you're still living in the house or not, any missed mortgage payments might harm both of your credit ratings.
If you wish to buy a property with a mortgage in the future, this might be quite damaging. If one of the parties fails to pay the mortgage for whatever reason, the property may be repossessed.
In such a case, you can always sell the house during divorce in Houston. Greater Houston Houses are the home buyers in Houston purchasing houses for cash as-is without you being bothered with any repairing or painting of the property.
Taking on your partner's mortgage payment
Couples may be considering "how to sell a property in joint names" and "how to get out of a shared mortgage" after a divorce. It's not unusual to elect to move your shared mortgage into just one person's name, resulting in only one person being responsible for mortgage repayments.
This is advantageous because:
Allows the person who was removed from the mortgage to apply for a new one on a new home
Eliminates the possibility of mortgage repayment default
It cuts all financial links with your ex-partner
Alternatively, you might try selling your property quickly to a Houston home buyer like Greater Houston Houses. We buy houses for cash and pay a fair price for them, ensuring you obtain the rapid sale you need throughout the divorce process, which you can split between you and your spouse and put toward a new home.
Truly speaking, going through a divorce can be both stressful and full of dilemas specially when it involves a house jointly owned by both the partners. We buy houses for cash and make the process hassle-free for you.
Contact us to sell your house for cash quickly because we are home buyers in Houston ready to purchase your property as and when you require!