5 Headaches Homeowners Face When Selling Home In Houston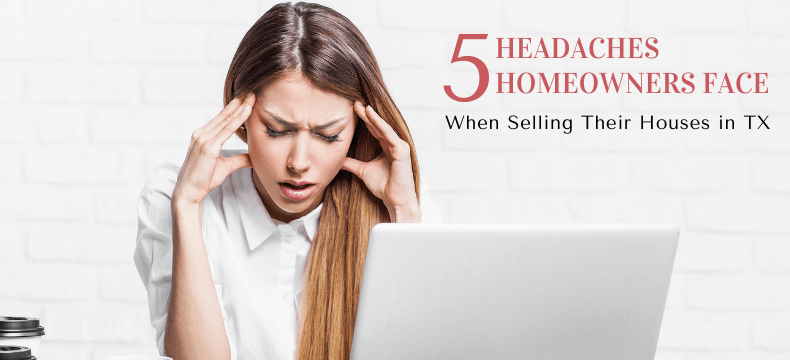 What can obstruct you from selling a home in Houston?
As a homeowner, we can understand that you would want to skip the annoyances you face when selling your houses. Debating whether or not to face the terrors of selling your own property? We want you to know there is a swift and easy solution. You can sell your house to us for cash. Yes, we buy Houston houses 'AS IS' in just a few simple steps.
By selling a house online in Houston to a cash buyer, here are the 5 headaches you can skip:
1. The curb appeal:
You have to make your home look elegant and this includes additional time and cost. One of the nightmares homeowners face by selling homes in Houston is spending excessive time and money on renovating their homes to increase the curb appeal. It can be more annoying to know that your extra investment sometimes won't bring the profit you expected. While selling your house to a cash buyer saves your time and money because we buy Houston houses 'as is' without any costly repairs or makeovers 
2. Unanticipated repairs:
When selling your house, you'll have to discuss who will pay the repair costs and other obvious issues. This can hold your home unsold for a longer time, which can be costly. Buyers are likely to evaluate what repairs will make your home more saleable. This might leave you with even less profit
3. Clearing the clutter:
You'll have to depersonalize your entire home and this can be time-consuming. This may also include the expenses of staging your home to compete in today's market. You may also have to make arrangements for any pets when buyers walk through, repetitively retaining show-ready status. This can become exhausting especially if your home stands unsold for a longer time. Some families find frequent staging to be too costly and end up living in a temporary home while waiting for their property to sell. Selling a house online in Houston to a cash buyer eradicates this issue.
4. Dealing with buyers:
Please note- while selling your home you must be watchful with what is said to prospective buyers. Prepare yourself for people who are seeking to steal deals, making unpleasantly low offers. Try not to take it personally. Often sellers get upset because buyers who they negotiate with aren't even capable of buying the property. Even certain cash buyers in Houston might indulge in the same. Be wise, choose wiser.
5. Legal risks:
Disclosure! Disclosure! Disclosure!
Most of the traditional real estate agreements state that there is a possibility for the buyer to take legal action against you if they feel they didn't get the complete information or if they feel the details presented were misinterpreted
Conclusion:
Why not just escape from facing all of the annoyance and headaches and directly sell your house for great cash offers to us instead?
Reach out to the best cash home buyers in Houston, Texas!
Just call 832-510-6471 and you won't be disappointed!