6 Reasons Why Now Is A Great Time To Sell Your Houston Home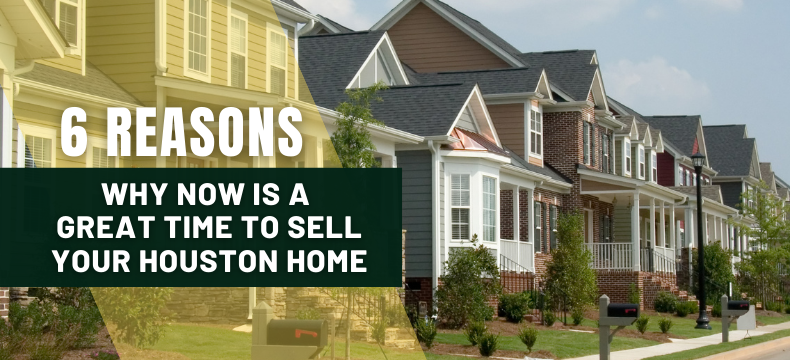 There is a global pandemic, the world is at a pause and the economy is stumbling. On the contrary, real estate might just be the place to look into right now. In Houston in particular, almost $35.5 Billion worth of real estate dealings were done in the span of three years.
Regardless of the pandemic, now is the best time to sell your Houston home and get in the real estate market.
Yes, even with the pandemic situation the globe is facing right now, it's still a great time to sell your home. It may look as if the last thing you want to do now, but to sell your Houston home now will offer ample advantages, even with the present-day conditions.
You are allowed to have the benefit of doubt, however we have just the right reasons to change your mind. From research on booming technology to online expansion of a real estate marketplace, we have filtered through the best for you.
Following are the six reasons why is now the great time to sell your Houston Home:
1. High demand to sell your house in Houston:
In Houston, single-family home sales have progressed by 11.4% by every passing year. There is a great demand in the market for homes. Any plans to sell your old home? Now is the perfect time
2. Prices are rising:
The normal price of a Houston single-family home has increased 11.3% the previous year and that is a historic growth for Houston. Sales of town-homes in Houston have increased by 20.7% whereas the average price also went up high at a similar rate
3. Low-interest rates:
Interest rates around 3.5% now (typically low) are aiding the people of Houston to buy more homes. The principal amount and interest on a 30-year fixed mortgage for $300,000 are lower than $1400 per month
4. The population of Houston is increasing:
According to a report presented in Forbes magazine, around 1,400 people move to Houston on a daily basis. The incredible number of buyers relocating with giant energy companies like Exxon, Chevron, Shell and Halliburton are adding to current Houstonians and motivating the demand for homes
5. Supply of homes should increase:
Builders in Houston are anxiously purchasing lots of homes and supplying to the need. It's also expected more property holders will list their homes for sale in the spring.
6. Risk is very limited when selling your house:
With the restricted list and strong buyer interest, if you don't dramatically charge an overvalue for your home, you're in a great state to check the market and sell your houseDeciding to sell your home? Need a place to live after you sell? Check the real estate trends in your neighbourhood, find out the worth of your home and get a perfect marketing plan for your property today. Or sell your home to a cash buyer.
We at Great Houston House LLC, are one of the best companies that buy houses in Houston, TX, faster than any other companies in the area.
To avoid the hassle of repairs, listing your house with an agent, fickle buyers, and months of uncertainty- consider us.