Details You Need To Disclose When Selling A House Fast In Houston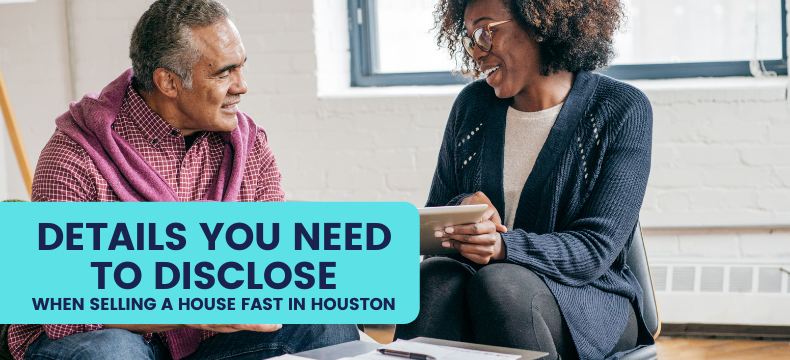 Selling a house in Houston, and making it fast will require you to be more careful and not make any mistakes while being hasty. It is essential for the property sellers to disclose information about a property's situation that might affect its value. Even if the law doesn't necessitate this, it is prudent for a seller to disclose it for liability reasons. Local laws differ, so it is vital to check with the suitable planning sectors for details. In Texas a Seller's Disclosure is required.
Knowing the kinds of information that should be revealed can guide you to decide on purchasing a property. If you're the seller, it can save you from litigation.
There are some common real estate disclosures to be mindful of, whether you're the buyer or the seller, and want to make a deal faster and easier. In this reading, we have mindfully stated the details which are considered crucial and some mandated disclosures to be made.
Here are the disclosures to be made when selling a house fast in Houston:
1. Death in the home:
Some buyers have worries or superstitions about buying a home in which someone has died. Disclosure hence might be essential
2. Hazards:
If the property is at augmented risk of damage from a natural calamity or has possible environmental impurity, it may be necessary for you to disclose this information to the buyer
3. Repairs:
What have you mended, and why? It is essential for the buyers to know the home's repair details so they can give additional consideration to problematic areas and so that they're attentive to probable future concerns.
4. Water damage:
When water gets in where it shouldn't, it can damage your home's structure, weaken it and even risk your health by causing mold growth. When you sell your house in Houston, you should reveal leaks or water damage
5. Paranormal activity:
If you think your house is spooky, haunted, or if you've had an exorcism done, you should reveal the information to the buyer as well
6. Pests:
Even though it's not severe, it's significant to note if there are pests, knotweed problems or termite damage when selling a home
7. Property drainage issues:
Even if you feel that the issue has been resolved, it is best to disclose main or rare concerns
8. Neighbourhood nuisance:
An annoyance from neighbours is often a noise or stink from areas outside the property that could bother the people residing. Make sure you know in detail what your state law entails about neighbourhood nuisance disclosures
9. Technical Issues:
Roofing leaks, possible foundation problems, electrical malfunctions, plumbing leaks and water pressure issues, sewer issues, room additions/extensions. All critical issues that must be disclosed.
Conclusion:
Even if a certain disclosure is not mandatory in your area, sellers who have info about their house that could depress the buyer might want to reveal it anyway. In addition to the ethical aims for being true with potential buyers—and the wish to escape the expenditure and hassle of a lawsuit—people have a status to protect. Sellers who have any worries about whether they've revealed the property's condition suitably should contact a real estate legal representative in their state. There are companies that buy houses in Houston, TX, who don't require certain details and disclosures. But there might be certain concerns and doubts about these buyers. Regardless of your concerns, contact Greater Houston Houses LLC as we specialize in buying houses in an "as-is" condition for fast cash.