Falling Behind On Taxes? Sell Your Home For Cash.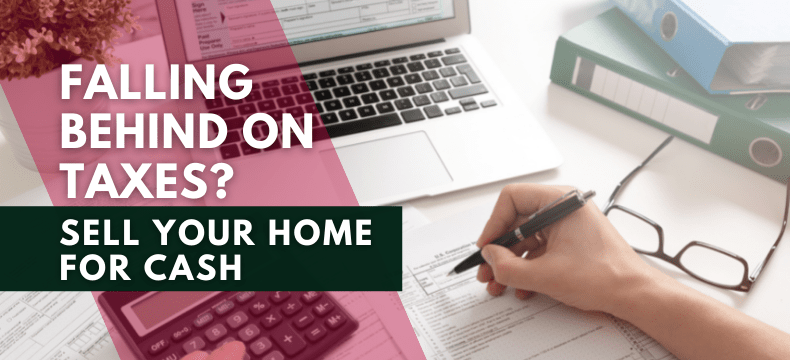 It is a surprisingly common struggle for people to fall behind on taxes. Many look for ways to make easy cash in order to catch up on their payments. However, there is a way of making cash that not many people are aware of. That is, to sell your home for cash.
How is it beneficial to sell your home for cash in tax debts?
Owing the government is the last thing you want. Over this, late payment of taxes will result in penalties and extra charges which will give you a mountain of debt. People fall behind on their taxes for a myriad of reasons.
Here are some of them:
Lack of funds
Forgetting to file
Dealing with unforeseen circumstances
Lack of knowledge
Consequently, this makes a person end up in a tax burden. The IRS (Internal Revenue Service) will make sure you file your taxes and will not stop until you've caught up with your taxes.
If you are unemployed and facing a financial quandary, paying up taxes becomes all the more difficult.
IRS reported a 30% dip in tax returns in just one year from 2020-2021. If you find yourself in such a situation and are running out of options, one quick solution for money can be to look for companies that buy houses for cash, especially for those behind payments and taxes.
Most home sellers don't have to report transactions to the IRS, however, if you are one of the exceptions, it is advised knowing the regulations would help you to hold down your tax bill.
Selling your house for cash might just be the way out. Here's why:
Lesser Collapsed Sales.
The risk of losing buyers at the last minute when they can't qualify for a loan is eliminated when the sale is in cash. There is no backing out once the cash is passed, and these typically happen on an "as-is" basis, which means there are no extra charges on the sellers' side. The perk here is, more and more people opt for cash sales every year as most of them do not comply to register at IRS for taxes. Cash sales are a done deal for sure.
This is considerably a low-risk avenue for making money in order to complete your payments and filing taxes.
Sell for cash, While You Keep The House.
If you do not want to lose your house but require cash for tax repayment, you can always devise a deal with your buyer and lease out the property. Greater Houston House is one such cash buyer.
Houston house cash buyer will pay for your house in cash as-is and will generate a leaseback for you to stay in the same house.
This is not a typical option that most cash buyers for houses provide to their sellers and tops the list if you do not want to lose your home.
You can stay in the house while utilizing the money made to pay off your mortgage and taxes
Get It All, Pay It All.
The most amazing perk in selling your house for cash is that you get to keep it all. In a typical real estate transaction, a huge portion of the sales price usually goes to the broker or the agent involved in the deal, costing you a large number from your profits. Realtors charge around six to eight percent of the sale as their commission fees, where you could be saving thousands of dollars, which would be sufficient to fill up your tax discrepancies. If you sell your home through a realtor, you may get a better proposal, but you will still end up better off when you're selling in cash when you factor out commissions and taxes.
This will consequently aid you in paying up all your debts and catching up on taxes.
Conclusion
Make sure you avoid owing to the IRS, educate yourself on tax reporting and payment obligations. If you have little or no knowledge about your tax obligations, consult a tax attorney and keep him in the loop for further payments until you're comfortable with the process.
If you ever run out of options, make sure you are aware of the plausible solutions for making cash quickly out of the most valued asset you have, real estate.
It is a well-known fact that in any real estate deal, cash is king. If you sell your house fast for cash, it will probably fetch you slightly less money, and give you the advantage of avoiding the cost of repair and other hitches of the process.
Furthermore, declaring a low value of transactions will keep the taxes at bay.
Selling your house for cash might just be the solution for you to catch up on your taxes.
To sum up, be alert, awake, aware, and pay your taxes!