Here's Why You Should Be Selling A House Fast In Houston in 2021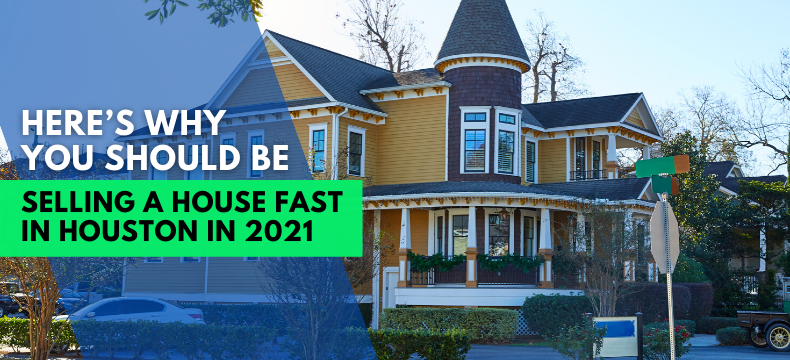 The answer is yes. If you know how to sell your house fast in Houston, then this deal is the right one for you. Here's why:
It is obvious that investors and sellers might get skeptical about getting involved in real estate in the middle of economic instability caused due to a virus outbreak. However, the case is on the contrary.
Experts and investors have been speculating the outcomes and the conditions of the real estate market worldwide and they choose to look at it from a positive perspective. Speaking of Houston, Texas, the market situation is profitable as well.
Housing market experts predict a year of high demand and elevating home prices as the day goes by. After an initial downstream due to the outbreak of Covid-19, the housing and real-estate market rebounded soon. Buyers are desperate to move and make money whilst the lack of supply of houses in the U.S is directly contributing to the increase in the prices. That being said, it remains a seller's market for homeowners who decide to go with Selling A House Fast In Houston now.
Some believe in waiting for the pandemic to fade off to get a more clear idea of the economy and status, but rather if the market is profitable right now, why not sell it?
Waiting could be better but can be worse too. It is suggested by experts to make use of the current scenario and decide accordingly.
Houston, in particular, has almost 4 months of single-family houses for sale. This is the lowest in the market than any in the previous 14 years and is about 23% less than the national average. The housing market is not forever, and now is an excellent time to make a sale.
Here are a few reasons that prove how profitable it is to sell your house fast in Houston:
The skyrocketing demand:
The house sales in the Houston market have increased by 11.4% in just one year from 2020. The boost in budding entrepreneurs and the establishment of new businesses led to these increases, which ultimately accounted for Houston's 19th consecutive monthly jump. Back-up contracts were seen to re-emerge in the market, homes were closing materially over the asking price this year and there was a visible bidding war going on. All these factors seem to make the market a favorable one to sell into right now.
The rise in the price:
A historic rise in the price was seen last year in Houston, where the average prices of a Houston House rocketed by 11.3%, which was approximately $243,797. There was a huge 20.7% jump in Houston Houses sales numbers while the average prices rose to a comparable rate. And this leap was noted only within a year. These stats suggest that the market is carrying the potential to increase profitability in the near future too, however, the pandemic puts that at risk. Going by this trend, investing early and selling a house in Houston now will be a good option.
Houston is filling up:
There has been a tremendous increase in Houston's population in the last few years. That gives rise to more demand and good opportunities for real estate. In addition to people, the big players in the energy industry like Chevron, Exxon, Halliburton, and Shell are relocating to the Houston area. These companies are creating employment and relocation of previous employees. Subsequently, these firms and industries are affecting the real estate market as well. Consequently, these relocations are driving demand upwards, by the day. A report by Forbes Magazine in 2019 stated that approximately 1,400 people move to Houston, per day! This also suggests that Houston has a huge potential factor. You need houses to keep these people in, the time to sell your house in Houston is now.
Interest rates are staying plummeted:
Let's talk numbers here. The ongoing interest rates are around 3.5% presently, which allows homeowners in Houston to buy comfortably. These rates are at an all-time low now, and it is not suggested to wait and hope to see a dip in them furthermore. If they increase, you might not make as much money as you can now. Economic progress in the state has miraculously allowed a hospitable investment avenue in the real market at present. Another perspective on this can be that the interest rates are lower than ever, the return expectations are low as well, this definitely makes investors be attracted to the market, giving rise to demand and prices. To give you a better view, the principal and the interest rates on a 30-year-old fixed mortgage for $300,000 are less than $1400 per month. Given the factor of increase in demand, buyers will dig in. Waiting is not suggested by experts and based on these numbers, Fast-sell houses in Houston are now surfacing at the fastest pace because of this very reason.
Conclusion:
These factors do indeed suggest that a sale will be profitable, however, a few might be in the deception of making more money, and turn out to increase their selling prices drastically. This will scare off buyers and investors. Being up-to-date with the industry prices and other factors is considered to be vital.
Right now, you're in a great time to sell your house. Utilize it wisely.
If you need more information on the market trends, changes and volatility, get in touch with us now!
We at Greater Houston House are pioneers in real estate. We will provide you with all that you need in regards to selling your house. We will guide you on how to sell your house fast in Houston, from the scratch. If you're interested to fast sell your house in Houston, this is the perfect place for you.