How To Avoid Getting Scammed By "We Buy Houses In Houston for Cash" Websites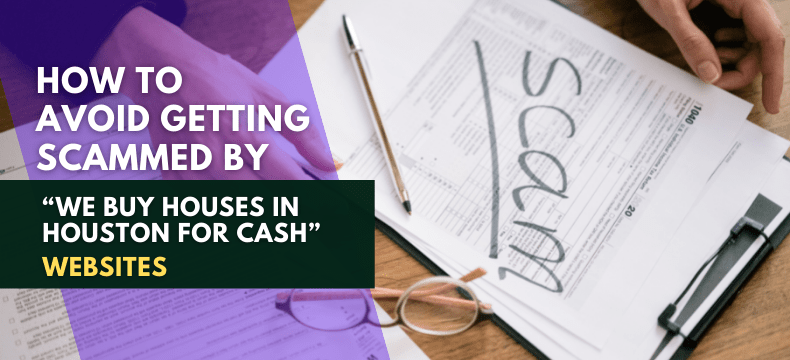 There is a multitude of "we buy houses in Houston for cash" websites on the internet and it is necessary to confirm their authenticity to avoid getting scammed by them. These scammers prominently function online to avoid real meetings and easy payments, which they ask to wire. Unfortunately, desperate sellers are their main fishes and the most likely ones to fall for their scams.
So how do we know which of these "we buy houses in Houston for cash" sites are genuine?
One of the most unfortunate but true facts about the real estate market in Houston is that there exists a multitude of scammers posing as cash buyers for houses online which have been found prominently in recent times. If you are out to sell your house for cash in Houston, it is critical for you to understand the difference between a real investor who has a great profile to sell your house to, and a scammer who in turn takes money from you. A "we buy houses in Houston for cash" advertisement won't have all the necessary information that you should know.
You need to first understand that when you're the seller, you do not pay anything to the prospective buyer. Go with this principle to minimize your chances of getting scammed.
These scammers often misuse the seller's desperate need for cash and hence sellers may fall into their trap quite easily. In further reading, we will walk you through a simple guide on how to figure out genuine buyers and how to avoid scammers and fake websites from fooling you and wasting your time.
There are certain factors that contribute to an authentic investor. We have analyzed a few of them and culminated in some tips to help you steer clear of fakes and scammers.
Here are some tips to recognize and avoid scammers buying a house in Houston, TX :
Extensive Research:
Know your prospect.
Do extensive research on the buyer's presence in the market, previous investments, the authenticity of the website, etc. After the ask around on the internet, start asking questions directly. Begin with simple questions like company name, address of the office around Houston, to meet and greet in real life, owner details, and other questions that you can think of which will help you to know more. With each question and answer, you will have the opportunity to ask a follow-up and confirm the truth. Ask everything you can down to the minute details.
A well-reputed company or establishment that's involved in buying a house in Houston, TX will happily provide you all the details that you ask for. A good resource to check the authenticity of a firm is checking up with Better Business Bureau, a nonprofit organization to help avoid scammers and thieves posing as fake companies. You can connect with them online to gather the necessary details. If the buyer is not listed, that might be a red flag for you.
Hidden fees:
Most cash buyers do not charge any fees on the sale of a house, some might have hidden fees that you aren't aware of. Make sure your buyer is transparent on any charges or fees at every step of the process. It is suggested to ask for a cost breakdown from your cash buyer if any charges or costs have incurred.
You as a seller have the right to have transparent billing and procuring an expenditure breakdown of your sale. Some "we buy house s in Houston for cash" advertisements do not reveal any chargers on them. Thereby, enquire and be updated before proceeding further to save time and to steer away from fake websites and investors.
It is not very uncommon for cash buyers to have a bit of charge and fees over transactions. That being said, scammers charge a hefty and huge amount as fees and charges. Do not make the mistake of paying the fees first, because if you do that, the scammers will disappear in a jiffy with all your money.
For a better picture of all transactions, understand the legitimacy of a proper cash flow in any real estate transaction. Ask an expert or simply Google it before spending a penny.
References:
When you get a list of prospects and investors for yourself, they should have been in the business for long enough to know the system and process to buy a house in Texas, Houston.
They should have already invested in a few houses and properties already. That being said, it is suggested that you ask for at least 2 references for yourself of previous homeowners to cross-verify the authenticity of the latter.
An authentic investor/buyer should not hesitate to give you any references for themselves as it is good for business. A scammer however will have bogus reference numbers and addresses not to be found anywhere. Consider this factor as a red flag before proceeding further
Eagerness:
Buyers interested in properties will have their books filled with potential options for investing. If they are more eager to buy your property than you are to sell it, there might be something fishy. Although it is a fast cash business of real estate, hasty transactions are also a red flag. No buyer would hurry into buying a property. It often happens that scammers ask you to wire them money as charges to buy your house in the "as-is" condition. Here's where the catch is. No investor in their right mind will buy a property unseen or ask for a fee prior to a deal. Genuine investors tend to deposit some cash in good faith, and it is never the opposite. An investor would not buy a house in Houston, Texas hastily as the seller needs the cash more than the investor. Scammers keep surveillance of Houses for sale in Houston by owners who are in dire need of cash and target them in specific. Make sure you aren't desperate to sell, and they're not eager to buy.
Conclusion:
It is critical to consider all these factors to avoid getting scammed in the "we buy houses in Houston for cash" business. You as a seller need to be extremely careful and aware of the market and its scams. It is suggested to read more about the local market and keep yourself updated.
Greater Houston House provides the best and up-to-date information about your entire house selling needs. Belonging to the local community of Houston, we are the most authentic, well-established company in all of Texas. Follow us to know more!