Discover the Strategies Behind a Successful Home Sale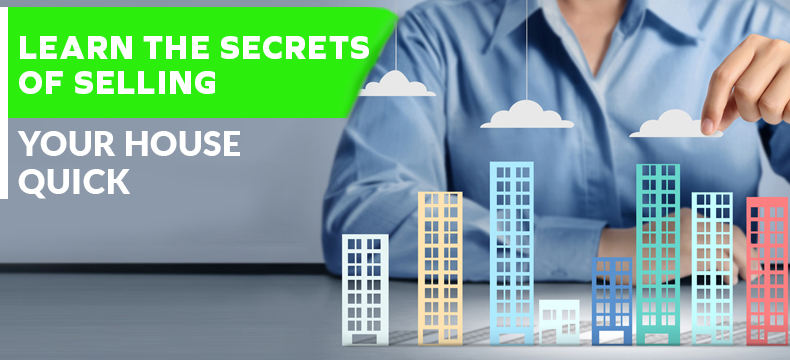 The fundamentals of quick home selling don't change, whether you're selling in a buyer's or seller's market.

Buyers will always be most attracted to your home in the first few weeks when it's on the market, so get your house ready from day one.

By using these stress-free and reasonable tips, you can expect good offers in no time:
Secret tip #6: Price your home right
How to sell your home fast is equal to price your home right.

Never price it according to what you require financially, but what market value your home and your neighborhood hold.

Go for detailed research on what similar homes in your area cost. Also, consider the renovations you've made to the home and its structures.

While you perhaps won't get 100% profit on your investment for upgrades, they will surely impact your home's worth.
Secret tip #5: Light up your home
Make the best use of lights in your home.

After locality, good lights are one of the most essential things that every buyer quotes to see in a home.

Takedown the hangings and curtains, make the windows look sparkling clean, modify the light shades, increase the light bulb's wattage and trim the bushes outdoors and let some sunshine in.

Do everything you have to do to make your house look cheerful and merry – this will make it more sellable.
Secret tip #4: Don't forget your kitchen
The profits of remodeling your kitchen are boundless.

You'll possibly get back the 85% of your money- that's the best part of it. It may cost you a few thousand dollars to upgrade or change countertops where a buyer may eliminate $10,000 off the offer price if your kitchen looks old-fashioned.

The quickest and affordable kitchen modifications comprise painting and getting new cabinet hardware. Paint it neutral so you can present a blank canvas to the buyers where they can start picturing their own flair.

If you can't spend much then buy one elegant stainless steel appliance. Why so? Because when people see one expensive appliance they consider all the rest are costly too and it modernizes your kitchen's value.
Secret tip #3: Recommend your house yourself
Even though your agent is formally in charge of promotion, you can speak out, too. Use your own social media accounts to send the listing page to your family and friends. You never know who in your contacts or theirs may be looking to buy.

Inform about your home selling in your neighborhood and ask them to pass the message forward to someone who is looking to buy.

The more people who know about your sale, the more you can expect to find a prospect, and that's vital when you want to sell your home fast.

Secret tip #2: Make your home picture perfect
While posting pictures about your house sale, ensure you get a good photoshoot done. Photos are the primary thing a prospect will see of your home, and they can influence whether they end up scheduling a meet or not.

Good photos should highlight the finest features of your home to make the space look as heartfelt and appealing as possible.

It's not as calm as it sounds, and you should not trust just anybody to do it. Hire a professional.
Secret tip #1: The first impression matters the most
Your house has to be presentable always – you never know when your buyer is going to visit.

Make yourself available when they want to come to see your place and ensure you present it well.

No matter how beautiful your home interior looks, buyers have already judged your home before they walk in.

The first impression never gives a second chance. It's vital to make people feel whole-hearted, comfortable and safe as they approach the house.
Make your home's exterior look elegant with inexpensive shrubs and brilliantly colored flowers.

You can expect to get high returns on the money you put into your home's curb appeal.
Allow us to help you with the best cash offers. We buy houses in Houston!
We at Greater Houston Houses buy houses in Houston, Spring, The Woodlands, Katy, Cypress, Tomball, Beliers, Missouri City, Sugarland and Stafford. Our non-traditional and hassle-free process of dealing with houses makes us different from others. We do not need to fulfil bank criteria and formalities as we buy houses for cash. You need not worry about house repairs and presentation while selling it to us, we buy houses in Houston as it is.
Contact us: Greater Houston Houses LLC
Phone Number: 832-510-6471
Email: vaughn@greaterhoustonhouse.com