5 Reasons Why A Real Estate Investor Is Better Than A Real Estate Agent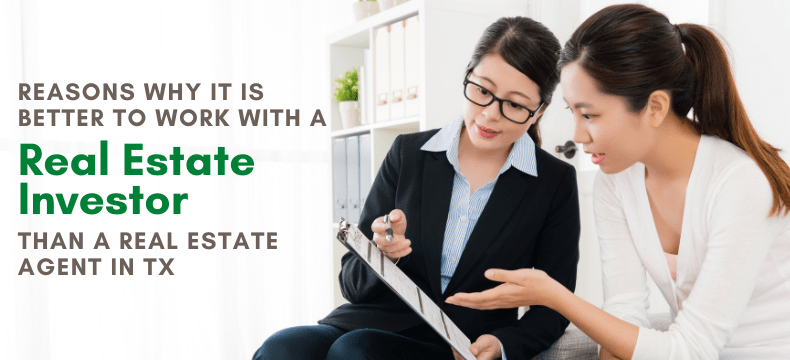 Further in the reading, you will get a complete overview of the advantages of working with an investor, in order to sell your house fast in Houston:
When it comes to selling a home, people usually consider working with real estate agents to sell their houses as they find it to be the easier and traditional thing to do. Contrary to this belief, it's actually easier to work with an investor. Not everyone has helpful experiences working with real estate agents. No doubt, they're experts and know their job well – but it doesn't always translate to profit to the homeowner. If you're sick of relisting or looking to escape the difficulties of the process, there are many reasons why you should consider a real estate investor.
If you're interested in selling a house fast in Houston, we have listed just a few reasons for you:
1. Save time:
The deal saves your time and that is one of the major benefits to consider this option when you are looking to sell your house fast in Houston. The lack of agents, commissions, closing paperwork, and loans allows an investor to directly jump from one stage to another very quickly. Since investors don't lack money, your investor and yourself need to walk away pleased by the deal, the closing process doesn't consume much time. An investor can close the deal in a week
2. Sell as is:
If your home is damaged, selling a house fast in Houston with a real estate agent might not be easy.
An agent might even deny working with you. If he does however accept, then he may want you to repair your house before they list and promote it.
Investors will never want that from you. They aren't concerned by the extent of the damage. Caving roofs, burst pipes, fire, or mold damages aren't any issues to real estate investors. They buy your home 'as is'
3. Skip the showings:
You don't have to heavily spend to make your home look beautiful and clutter-free. Moreover no need for frequent walk-ins of prospective buyers and their bargains. Real estate investors promptly inspect your home in detail just in one visit, making the process of selling your house in Houston faster and much easier.
4. Get paid in cash:
Real estate agents can get you people who are wanting to buy your home, but they can't fund that buyer. Only a bank can do that. Many buyers don't buy a home totally in cash. They need credit approval from a financial institution to buy your home. At times, a buyer might enter the sale procedure and be denied the loan. This will leave you upset and create a mess of starting the process all over again with a new buyer. Whereas, investors have their own money. They buy homes entirely in cash, and they never need loan approvals from banks. You can be sure of getting the offered amount while closing the deal.
An all-cash purchase makes everything much easier
5. Easier than the hurdles of an agent:
Real estate agents look for perfect homes and require a long process of conceiving a deal with a commission. On the other hand, Real estate investors look only for high returns and valuable investment opportunities. As long as they find a house that seems to have potential, they go ahead. It's as simple as that.
Certain companies that buy houses in Houston TX like Greater Houston House follow the same principle.
That makes dealings with investors much easier than real estate agents.
Conclusion:
These were a few reasons why Investors are a way more reliable and efficient option when you are selling your house.
At Greater Houston House, we buy houses in Houston by providing you the benefits of working with an investor. We're a team of expert home investors that buy properties in Houston, Spring, the Woodlands, Katy, Cypress, Tomball, Bellaire, Missouri City, Sugarland, and Stafford.
We'll be able to respond to you with a quick and great cash offer.