The "We Buy Houses For Cash" Local Companies in Houston: An Overview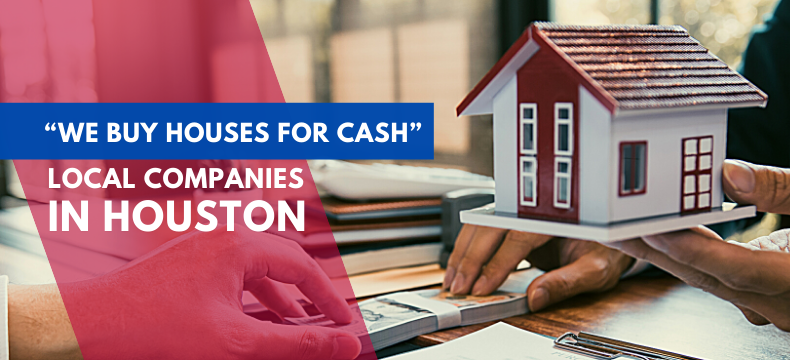 There has been a massive explosion of Cash home buyers in Houston, Texas which are often identified as "We buy houses for cash" companies. These firms are investing agencies that buy housing properties for cash and hence, take less time in the processing. Due to the increase in demand for fast houses and the need of the buyers, we got to see a considerable rise in them in the last few years.
Here's a quick review of the top local "We Buy Houses For Cash" in Houston:
Cash house buyers are typically investors and investment companies that buy houses from sellers in an "as-is" condition, meaning that there is no need for repairs and refurbishment of the property. Furthermore, they make the transaction in cash, and the deal usually completes within a week. These "We Buy Houses For Cash in Houston" and "fast house buyers for cash" companies have come to a rise for their speedy operations.
You might think what business would they get out of buying old, unrepaired houses for cash. It's not as complicated as you think it is. Investors and companies buy properties fast for cash for a relatively less price than a repaired high selling property. Then after investing a little more, they make sure that the house is worth selling and make a good profit out of it.
What do buyers get?
Buyers in such scenarios are homeowners who are in need of cash urgently. It is difficult to sell a house quickly for some cash if we choose the traditional way of partnering with real estate agents and brokers. Fast buyers fill this gap of urgency, thereby greatly reducing time, and consequently making a demand for themselves which adequately fills the need of buyers.
Now that you have an idea of the business, by the end of this reading you will be able to identify the topmost "We Buy Houses For Cash" companies in the Houston area.
Here are some of the local companies that buy houses in Houston for cash:
Greater Houston Houses LLC:
Greater Houston Houses LLC is a cash home buying organization situated in Cypress, Texas. They are considered the pioneers of the cash home buying business, as their services and efficiency of dealing have always been ahead of the game. The founder couple, Vaughn and Anera have helped over 500 homeowners sell their houses since 2005. With immense experience in the local market, this establishment knows what it takes to bring the best for you, and they carry it out effortlessly. From financial consultancy to closing the deal, they have it all. A homeowner will get a cash offer within 24 hours of a property visit or a deal inquiry. And the best part is, you can close a deal with them within a minimum of just 5 days! It surely doesn't get better than this.
Houston House Buyers:
Another firm with a stronghold in the house-buying business is Houston House Buyers. Run by Jacob Bible and Tom Perry, a Houston local duo with over decades of combined experience in entrepreneurship and risk management firms. Their aim was to help improve the neighborhood and improve the overall property value of houses in the Houston area. These cash home buyers in Houston, Texas have helped hundreds of homeowners sell their houses as they were having trouble doing it the traditional way. What makes them stand apart is their network amongst local repair services and contractors which offer them exclusive discounts, consequently offering more cash to homeowners. Not only this, homeowners get a no-obligation cash offer in less than 24 hours!
Houston Fast Home Buyers:
As the name suggests, Houston Fast Home Buyers is another player of the game from Bluebonnet, Stafford, Texas. It is a "we buy houses in Texas" company, covering areas and neighborhoods like Katy, Sugarland, Pearland, Friendswood, Richmond, Conroe, Woodlands and Springs, so on and so forth. A feature that probably makes Houston Fast Home Buyers stand apart is that they offer to cover your moving charges if you sell your property to them. If you're looking to significantly lower your moving costs, this is the company for you.
Priority House Buyers:
With the "family" factor in their brand, Priority House Buyers are real estate buyers belonging to the locality of Houston. The business is run by a family based in Houston with about 11 years of experience in real estate having bought over 500 properties in local Houston. Since it's inception in 2009, they have stressed on their core values being integrity, honesty and fairness in deals. With a 24 hour cash offer policy, this brand particularly stresses on their speciality and knowledge of the locality, the connection with a family run business and complete transparency when they buy a house in Houston.
Very Fast Home Buyers:
A fast and easy home selling solutions company, Very Fast Home Buyers get their name by their operations. Run by founders Ben & Derrick, they have helped over 100 homeowners since the inception in 2016. They claim to be in the "people business" rather than the "housing business" as they aim to help a hassle free and easy solution to homeowners selling their house in Houston, without the traditional, lengthy and expensive way of real estate agents. They operate from their head office in Foxide, Humble, Texas. This firm even provides sellers with the option to send pictures priorly if assessment can't be done physically, given the pandemic situation.
Conclusion:
Those were a few of the many Cash home buyers in Houston, Texas, that are active and operating currently. After careful consideration of all the relevant factors in the real-estate business, this is the most personalized, efficient and relevant list, just for your selling needs.
We at Greater Houston House, believe in carrying out business with dignity and valor, creating long-term relationships for a healthy business and hassle-free solution to your cash needs. Therefore, this list has been culminated, just for you.
Know more about us, give us a call now!