Things To Ask Your Cash Home Buyers / Investors In Houston, TX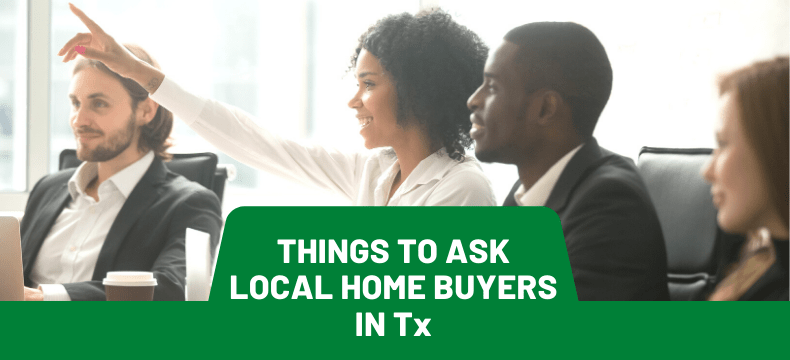 Evaluating Home Buyers will not only sell your home faster but also will make the process easier.
Knowing your Home Buyers in TX:
Procedures involved in selling a home can be puzzling and expensive, particularly knowing there are no assurances that your home will sell. Choosing the right cash buyers in Houston can make the whole process simple, direct, and swift!Cash buyers typically have a different Modus Operandi of investing in houses, and it is crucial to know about whom you are selling your house
Here are some things to consider knowing about your cash buyers in Houston before going ahead with the deal:
The contract
The details of the offer
Closing date/Deal date
Extra Charges
Time to execute
Deposits/Assurity
It can be annoying to invest time, money, and effort in a home buying company that wastes your time.
When working with cash home buyers in Houston, Texas, it's important to note that not all companies are the same.
Since we at Greater Houston House LCC are experts in the home buying industry, there are a few notable things to ask and feel more assured in the deal. Given below are some of the questions that our prospective buyers have before getting on board with us:
Q1. How long have you been in business?
We have been in business for 18 years.
Q2. What is your level of experience?
We buy houses and apartments. We buy approximately 4-6 houses every month.
Q3. How many deals have you been involved with?
Over 600
Q4. What's your company website?
Q5. What is your rating with the BBB?
We are the #1 rated cash buyer in Houston by the BBB
Q6. What do you look for when you present the cash price?
We do one inspection and one inspection only at our initial meeting.
Q7. How quickly can you close?
3-5 business days
Q8. How do I know that you will not assign this contract to a true cash buyer?
We don't assign deals, we buy houses. We are the true end cash buyer.
Q9. How do I know that you won't back out at the last minute, in an attempt to renegotiate the price?
We put down a sizable non-refundable earnest money deposit on your property. If for any reason due to a fault of mine I cannot close in the timeframe we agreed upon that money now becomes yours for me wasting your time. You have nothing to lose.
Conclusion:
Knowledge is power, and this power will make your deal easy and fast. These are some crucial things that you should know if you're looking for a fast deal to sell your house.
Don't fall into the headache of selling your own home by using unreputable so-called fast cash buyers. As we are industry expert home buyers in TX, you can be sure of saving time and money by selling your home to us at Greater Houston Houses.