What Are The Best & Fastest Ways To Sell Your House Fast In Houston: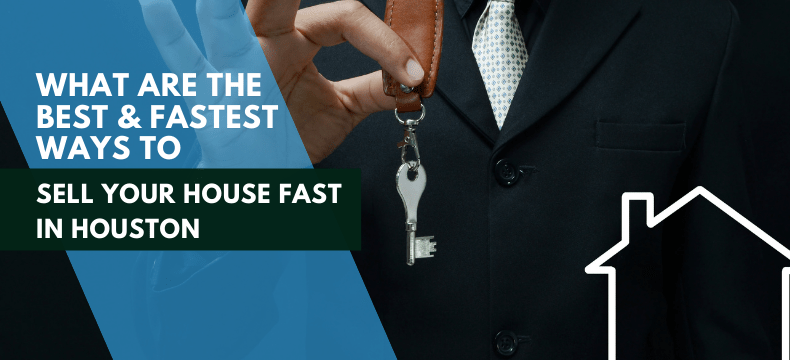 There are times when you will need to sell your property urgently, and you might fall out of options that are quick. Agents and Realtors will take up a lot of time in the sales process. Speaking of other ways, there are factors that influence the fastest time to make a sale of your house in Houston.
What are the factors that contribute to the fastest way to my house in Houston?
Selling a house is no easy task, especially during a pandemic. It gets difficult to procure some cash in urgency in a very unwelcoming environment. Hence, it becomes crucial for you to learn and follow certain strategies to up your game in selling during a worldwide pandemic.
As it is established already, there are a number of factors that contribute to selling your house in the real estate market of Houston. The fastest way to your house in Houston would be to learn and follow these vital factors in order for you to sell your house faster and easier.
Given below are few points that will help you sell your Houston home fast:
Mode of sale:
Deciding on how to sell your house dictates every other part of the procedure, from finding a buyer to a strategy of sales, the cost, and the preparations. It is important to list down your options to sell and weigh on the pros and cons of each option to go ahead with the most viable one to sell your Houston home fast. The options that you have on the table to sell your house fast are listed below:
An agent will market your property, takes care of the paperwork, and informs the buyers about the know-how of the process. An agent is a professional who specializes in assisting you from finding a buyer to closing a deal, for some commission. Many homeowners prefer Agents because of the expertise and local market knowledge.
Also called "iBuyers", they are a fairly new option for sellers. They are online companies and investors that will buy your house directly from you. The process is fairly simple and quicker than a traditional agent, and often the better option if you've been looking to Sell your house fast in Houston TX.
Spread the word:
Let the world know that your property is on the market, as that is the primary route to grab the buyer's attention. Get the word around in your friends, family, neighbors etc, but most importantly, use the digital space for ads. The more visibility you have, the more chances of sales you got. Make sure your ad is up-sells your property to get the most out of it. You do not want to make a loss on real estate.
Transparency:
It is important to give out a clear picture of the house on sale. Make sure you are clear on the objectives, terms, and conditions of the sale that you are about to do. It is also important for the buyer to know your cause to finalize the deal, as it saves time to fixate or reject a deal based on the seller's motives. Transparency should also be maintained in terms of legalities and documentation per se. The documents that depict the chain of ownership are of utmost importance. The clear title of the concerned property should be provided to the buyer when approached. It is also important to keep other significant details and documentation ready for authenticity and the speed up the sale:
NOC
Clear Title
Chain Of Ownership Documents
Tax receipts
Encumbrance certificate
These documents and certificates are subject to change according to your state/county and its necessity. Providing documents beforehand reduces the turnaround time and gives you a faster option to sell your Houston house fast
Usage of all portals:
There is a myriad of options available for you to utilize in listing your house. You can post free advertisements in all of the portals to boost your chances of getting a potential buyer. In the internet-technology era, online listings have tremendous potential to increase your inquiries. Using accurate keywords with the highest quality description and other digital marketing aspects is crucial for your property to be searchable. Also, remember to make use of the big guns of the internet, the social media platforms. Do not miss out on any, as all of them are known to have positive responses. Social media and search engines like Google are the primary point of contact for inquiries and searches for housing. Spread the word and look for buyers on search engines, utilize Whatsapp, Facebook, Reddit threads, Instagram, and to a lesser extent, eBay.
Conclusion:
Selling a house can be stressful, in times of pandemic, even more, if you need the cash urgently. Fortunately, we have the solution for your house selling needs and everything you want to speed up the process.
We at Greater Houston House are pioneers in real estate.
We buy houses in Houston, for cash, and all our processes don't take more than a week. Your one-stop to sell your Houston home fast.